Thorpe Park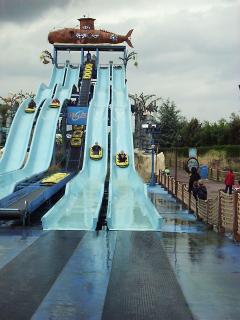 We had to wait quite a while as the kids queued to go on the water slide. Though the sky was pretty cloudy it didn't rain. Normally this would mean that we'd have stayed dry but after riding 'The Tidal Wave' we were all soaked.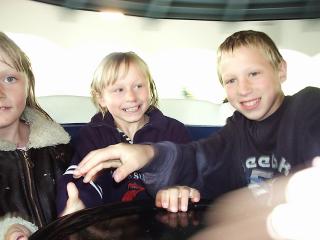 After riding the 'Tidal Wave' we decided to go on a nice gentle ride in the 'Tea Cups'. It was only through watching the image on the back of the camera that I avoided being ill. I didn't feel dizzy until I looked up from the camera.
I'm not sure if the kids are smiling because they are having fun or because I look so very ill ?
It's always the more simple rides which make me feel ill. I can ride looping rollercoasters for hours, laughing all the way but put me on a ride that rocks or spins and watch me turn green.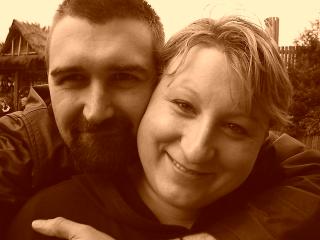 Every time we go out I always take a picture of Barbara and I. For a change this one was taken in cepia.
Having seen countless other groups before us with smaller children we knew that the photographers would have the patience for Cara. What we'd forgotten is that if you point a camera at Cara she becomes the perfect little darling.
'How old are you?' the cameraman asked Zoe.
'I'm eight' she replied.
'I'm eight too' piped up Cara.
'And I'm thirty' I added. Isn't it strange how people don't want to know how old you are when you're no longer a kid.
'OK ladies if you'd like to go in there and take your tops off.' the cameraman said as he did a hundred times a day.
'There aren't many jobs where you can say that and not get a slap.' I replied.
When we got home and gave Zoe's mum a copy of the wild west photograph she nearly cried.