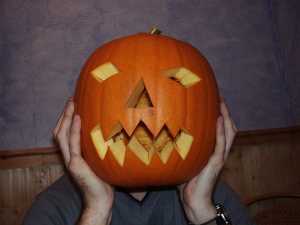 Third, pumpkin inards are yucky !
Forth, sharp knives, candles and kids who's bright idea was that?
"Daddy can I cut the face out of the pumpkin?"
"No"
"Daddy can I light the candle?"
"No"
"Daddy can I..."
"No, no, no, no, no !!!"
Seth and Cara were both happy in the end with their designs.
Seth's pumpkin is the first one that I've seen with false teeth.
I like the way that Cara's pumpkin has a lop sided mouth.
My pumpkin is apparantly "traditional", not bad for a Brit.