Summer Holiday (Part One)
We got to the airport with plenty of time to spare. At the check in the airline were giving out leaflets which said that the flight was overbooked and that anyone who would give up their seat would be compensated. Since there we were not being met in Chicago and we could get seats on a less crowded plane we volunteered. For volunteering we were given five hundred dollars in travel vouchers for each of the tickets and places on a later flight.
Having got up at four in the morning we were all pretty tired by the time the plane took off at two in the afternoon. Cara actually fell asleep before the take off and slept all the way through.
Barbara, Seth and I fell asleep after watching a film. When we awoke Cara was gone, we knew she couldn't have gone too far.
While we were asleep Cara had been helping the air stewards. She had been handing out chocolate and water then collecting the rubbish from the passengers on the plane.
We spent the first night in a motel in Joilet. The motel had a pool so the kids and I spent a couple of hours there until it was time for bed.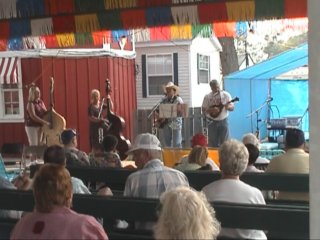 The next morning we drove from Joliet to Sandwich in Illinois. At the Sandwich fare grounds was the Sandwich Engine Club and Blue Grass Fare. Here I got to meet Barbara's aunt and her family. Barbara's father had bought his restored tractor to the fare.
We spent the night in a tent not far from one of the main stages for the Blue Grass music. Though the music was entertaining as a background during the day, it was a little too much as they played on to the early ours of the next morning.