Where The Wax Works
Barbara had to get out of the house today. She's not been well for the last couple of days and was feeling cooped up. It poured with rain all day. We got soaked simply walking to the train station. After a short ride on the train and another on the tube we then stood for about half an hour in the queue for Madame Tussauds while the rain attempted to drown us. Because it was so wet it appears that most of the tourists visited Tussauds today to get inside.
Barbara and I had visited the wax exhibition at Bluewater earlier this month and it was this that inspired us to go see the wax works in London. The exhibition at Bluewater had the Spice Girls, Janet Jackson, George Michael, Kylie and lots of modern models. I suspect that the Rock Circus has most of these since the majority of the figures in Tussauds were of historical people.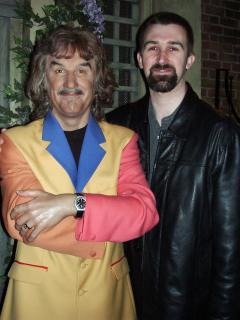 Barbara is pictured with a wax model of John Wayne. I took a picture of her next to Alan Tichmarsh because she watches so many of his gardening programs but I've put the John Wayne picture on line since more people are likely to know who he is.
I'm pictured with Billy Connolly since for a while I had long flowing hair and a goatee which some people say made me look like him.
Now that I've actually come to compare a likeness of Billy Connolly with a picture of me and my long hair, I would have to say I don't think I look anything like him.