PIC OF THE DAY 22nd SEPTEMBER 2000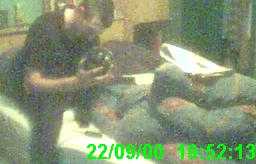 Something I've come to learn since becoming a father is that kids break things, if you ask then it was always the other kid that broke it, if you loose something you blame it on the kids, things become less important.
Through trying to dance while on the phone Cara pulled the phone off of the table. Here you see me cursing under my breath while fixing the phone. I sometimes wonder if so many things would get broken if I stopped fixing them.