PIC OF THE DAY 16th SEPTEMBER 2000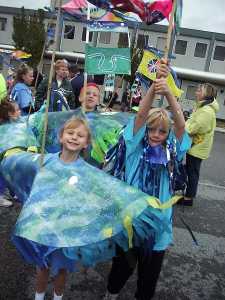 Not quite Notting Hill. The children from the local schools made masks and costumes for a prossesion through our local area. Barbara and I took Caras friend Zoe, Cara and Seth. All the kids had whistles and some had shakers, most had flags. How the whole thing didn't turn into a riot is a mystery to me.
We didn't know the route in advance so followed blindly. Luckily the rain held off and we all had a good day.