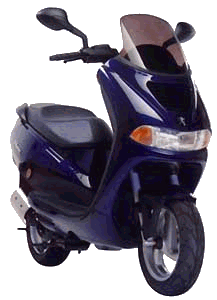 Two Wheels Are Better Than Four
In the last month road works have started which hinder two of my main routes to and from work. This has instantly added half an hour to my journey and both are set to run well into next year. Several times this week I have spent more time stationary in traffic than I have moving. When it takes two hours to do a twenty-mile journey it's time to look at your options.

I have always wanted to get a motorcycle but it's something I never got into. I had a motorcycle when I was at college with a 50cc engine but as soon as I was old enough to drive I got a car. It's only now that the road congestion is getting so bad that I really have no choice. I'm currently spending almost two hours to get to work and the same again to get home every day. Four hours on the road, that's half my working day.

The 125cc moped is the first step towards getting my full bike license and possibly a touring size bike.

Before I can ride the moped I have to complete 'Compulsory Basic Training', I'll book this as soon as I can. The store I have bought the moped from will deliver it to the training centre. I'm actually looking forward to doing the course.

Once I've completed the CBT course I can ride the 125cc moped on 'L' plates (learner). There are limitations with 'L' plates, I can't carry a passenger and I can't go on a motorway. The next test would allow me to ride the 125 without 'L' plates but would limit me to riding automatic motorcycles with a limit to the power of the machine.

The final test, normally following a further course, would allow me to ride any bike.

I'm not interested in a racing bike, I want a machine which is good on economy and comfortable.

The picture is the exact bike and correct colour for the one I have the deposit on.

As always, watch this space for progress.