PIC OF THE DAY 5th SEPTEMBER 2000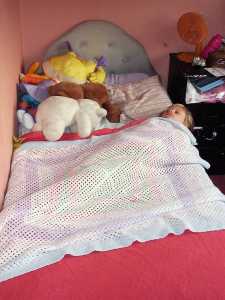 When I woke this morning I kissed my beautiful wife and, as she does every morning, she smiled. Seth had stayed over at his friends house so his room was the bomb site which he'd left it in. I looked in on Cara and to my surprise she was laying in a perfectly straight line. The toys taking up the top quarter of her bed she'd moved down and found, like her dad, that to make the most of a little bed space, it is best to sleep diagonally across the bed.
Cara and Seth are both starting school tomorrow after their six week summer break.