PIC OF THE DAY 4th November 2000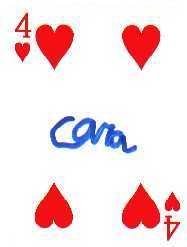 We were supposed to be going up to Black Heath tonight to watch the fireworks with a freind of mine and his family, unfortunately they could not come at the last minute. Rather than standing in a cold muddy field having burning embers from fireworks fall in our faces (as happened last year) we decided to go for a meal.
At TGI Fridays in BlueWater they had a magician. He performed a couple of card tricks and entertained us for quite some time. For one trick Cara had to write her name on a card and he made it appear in a wallet which had been in the middle of the table through the whole trick. Cara tried to spoil each of his tricks but this guy was on the ball. Seth was just amazed. Barbara and I were laughing at the expressions on the kids faces.
I always enjoy going to TGI, the staff are always friendly and the food is good too.